You may be unsure whether your home needs rewiring or not. There is no hard or fast rule to this, but there are ways to check the condition of your electrics to help you decide. 
Age is one of the main contributing factors as the wiring will deteriorate over time. Homes with electrics older than 25 years are probably due for upgrading, but it's not to say that they are unsafe in any way. As wiring is concealed in walls and under floors it's not possible to check the condition from sight alone.
Get an Electrical Installation Condition Report
It's recommended that you ask a qualified electrician to complete an Electrical Installation Condition Report (EICR) of your property. This report will give the information needed to help you decide whether to have a rewire or if it's safe enough to simply upgrade your existing installation.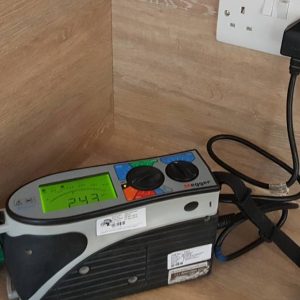 Once the inspection is complete a report will be handed to the customer with the results, either a 'satisfactory' or 'unsatisfactory' grading will be recorded.
An 'unsatisfactory' grading will mean there are underlying issues that should be upgraded to bring the installation up to current electrical regulations (BS7671).
Any underlying issues found during the inspection will be listed and graded on how urgent any remedial works are. The electrician will help interpret the results and assist you on what is the best cause of action to remedy these findings.
Upgrades to the consumer unit, earth bonding and accessories may be enough to achieve a 'satisfactory' electrical installation and rewiring not required.
Purchasing a new house?
For people purchasing their new home an EICR is always recommended, especially for older properties.
If the electrics aren't up to scratch a lower purchasing price may be able to be negotiated, or you may request the seller to upgrade them before purchasing.
Unfortunately, many homes  have electrics that are unsafe, even when they look like they have been modernised.
DIY work or alterations by unskilled tradesmen are commonplace,  therefore work is found to be unsafe or below standard.
Even if you receive a 'satisfactory' graded EICR you may still think about having a rewire. Why? well, it's a good idea to think ahead and determine how long you are planning on living in your new home.
For those who plan on staying for more than 10 years, a rewire will give you peace of mind knowing your home will be safe for your duration living there. It will also prevent future disruption to decoration if you rewire straight away, rather than doing it five years down the line and ruining you nicely decorated home.
Having a rewire allows you to have switches and sockets in convenient locations to assist with modern living.
Many older homes have a lack of sockets, especially in bedrooms and kitchens, with today's modern devices this is dangerous as it forces people to use extension leads or even attempt their own electrical work.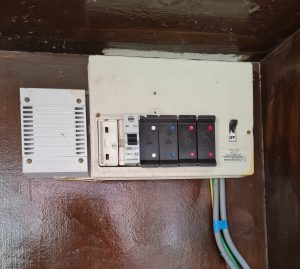 Old Wylex fuse boxes like this are normally a sign you are due for rewiring
Rewiring, what's involved?
Rewiring is a messy and invasive job and careful consideration needs to take place before commencing. If the property is newly purchased and unoccupied this is the ideal time to complete the work, avoiding all the mess and disruption caused.
For people with occupied homes scheduling a rewire is very tricky as there never seems to be a good time, but having the rewire completed whilst away on holiday can be a solution.
Floors and access
Major disruption to the fabric of the building will take place, carpets will be peeled back and floorboards will need to be lifted so wiring can be installed under the floor. This is a potential safety hazard not just for young children but also for household pets.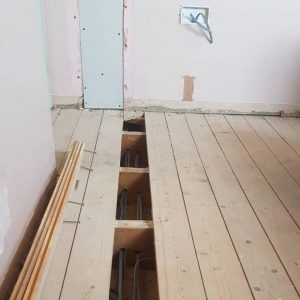 Loft spaces will also need to be cleared to allow wiring to be installed for any rooms below.
Access to electric meter cupboards and fuse boards will need to be made.
Chasing
In areas that a socket or switch is to be located, it's likely walls will need to be 'chased out' to allow wiring to be concealed, and back boxes installed.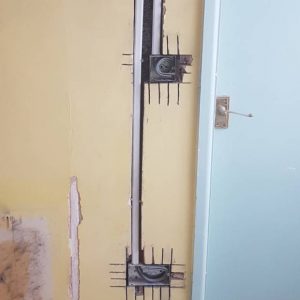 All these 'chases' will need re-plastering once electrical work is complete, this is not normally completed by the electrician, so a professional plasterer is likely to be required.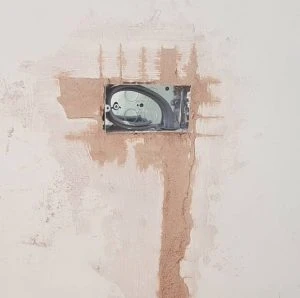 Loss of power
Whilst rewiring takes place the electricity is likely to be cut off to many rooms, maybe for several days, so moving into one room can be a solution.
How long does rewiring take?
Rewiring will take several days, all depending on the size of the property and the amount of electrical fixtures and fittings to be installed. If you plan on living in your home while work takes place it will take significantly longer.
Generally work is split into two time-frames, a first-fix commences the rewire, this involves the disruptive wiring and wall chasing elements.
Your electrician will return for a second-fix, generally after the plastering is completed. At the second-fix stage the new sockets and switches etc will all be installed.
Once completed, the installation will be fully tested and an Electrical Installation Certificate handed to the customer.
As rewiring has to comply with Building Regulations (Part P) a second certificate is also issued to show compliance with regulations, and also proof of Local Authority Building Control being notified.
Planning for a rewire!
So you plan to go ahead with a rewire, what now you may ask? Well a quote for your project is going to be needed, but you need to be receiving quotes for the same work completed. Different electricians will use different quality materials and have different ideas on how best to complete your works, so it's important you give them all the same information. Here's the best way of planning for this and the key items you should think about.
Draw a plan view of each room in your house, including items of furniture and beds etc. Then mark the positions of where you would like each socket, light switch/fitting etc. Do you want the lights to be switched from more than one location? Do you need high-level sockets for wall mounted TV's? Do you want wall lights? These decisions are the most important ones to make, as changes to a rewire halfway through are time-consuming, and therefore expensive so you want to get this right.
Think about future-proofing your home. With all the disruption taking place it's a good time to think about future alterations you may make to the home, will you have an extension? A new kitchen? Electric shower? Electric vehicle charger? . Facilities can be put in place ready for future use, meaning less disruption and cost at a later date.
Smart home technology is worth considering. If you're moving to a new home you may not know how good the Wi-Fi signal is, or already suffer from this in your existing home. Cat 5e/6 data cabling provides a reliable internet access point to each room in the house for PC's, games consoles and smart TV's. Central heating systems can also be upgraded to have smart controls which allow hot water/heating to be controlled from your phone or tablet.
Ventilation is often forgotten about when planning rewires. but it's a great time to add an extractor hood above your hob, or a fan in your bathroom/utility to help with the effects of condensation and mould. It's a simple addition while rewiring but a large job if completed at a later date.
Outside living areas may also require some form of electrical supplies and can often be overlooked. Power supplies to garden sheds, weatherproof sockets and outdoor lighting should also be thought about during planning a rewire, its a good time to add these as they are often an afterthought.
The last items on the list are security and safety systems. CCTV systems and security alarms are unfortunately needed these days and are more popular than ever as they can be monitored from mobile devices. Although both are specialist fields, electricians will put the wiring in place for these and usually call someone in to complete and commission the system. Smoke alarms are usually fitted as standard during rewires, mains powered alarms are far more reliable than relying on battery-operated versions and are relatively inexpensive to fit during a rewire.
Once you have compiled the information you then have a detailed list of everything you want ready to pass on to the contractors to quote for. With this information all contractors are now quoting for the same works and on a level playing field, this results in a fair price. You could ask for the quote to be broken down into sections, for example asking for a price for the basic rewire of the property and ask how much extra to install data cabling. This way you can then decide what works best for your budget. Be aware though that if you were to call an electrician back to complete the extras they would probably charge you more than if the works are completed as part of a rewire.
Cost of rewiring
There is no standard price for a rewire, it will depend on the overall size of the property and the number of sockets/fittings installed.
A basic rewire of a 3 bedroom house would be expected to start around £3000 for an unoccupied property, prices in the London area though would be significantly higher.
Also as explained earlier the job is a lot more difficult to complete in an occupied property, compared to one that is empty, this will also be reflected in the price.
Completing works yourself
It is not recommended that electrical works are completed by anyone who isn't qualified.
Electricians have trained for many years to possess the knowledge and skills to complete the work in a safe manner.
They will also complete the job with the correct certificates that are needed to satisfy insurance requirements. Electricians should not certify works not completed by themselves.
Finding an electrician
For details of where to find your local qualified electrician then look on the competent persons website. All electricians on this site will meet the criteria needed for your rewire.
http://www.electricalcompetentperson.co.uk/
Also try the Government backed Trustmark Scheme which has details of other qualified trades such as plumbers, joiners and builders.