We are approved installers of the Hypervolt Home 2.0 for Shrewsbury, Shropshire, Wrexham and surrounding areas
The Hypervolt Home 2.0 is an OLEV approved charge point so is available with the Electric Vehicle Homecharge Scheme Grant to help reduce the cost of installation by £350.
Hypervolt received backing from Innovate UK, the Government backed innovation agency to produce a charger with premium features but not a premium price.
Hypervolt features
7kW (32A) Charge rate – Can be reduced if required
PEN fault detection – No earth rod required!
Automatic load management –  prevents overload
Solar PV intergration
Integrated 6mA DC protection
5m tethered lead – option of 7.5 and 10m
Cable holster
Scheduled charging
Wi-fi connectivity
Smart app for iphone and Android
3 Year warranty – option of 5 years
Please fill out our contact form to make an enquiry about an EV charge point installation
PLEASE NOTE: We do not carry out installations at flats or apartment blocks.
See our blog posts for more about electric vehicles and EV charging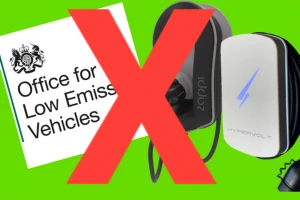 It was recently announced that the OLEV (now OZEV) Electric Vehicle Homecharge Scheme (EVHS) Grant will come to an end in March 2022 for homeowners.
Read More »