The BG Sync EV is the first EV charge point from British General, one of the UK's leading manufacturers of electrical accessories. In 2021 BG acquired EVCP,  manufacturer of the Sync EV, one of the most popular EV charge points on the market. They have now combined to offer a new range of charge points.
BG Sync EV overview
Many of the features of the old Sync EV compact charger have been carried over to the new models, including PEN fault detection, load management and integrated RCD protection. Socket (untethered) and tethered lead (7.5m) models are available, both with a single-phase output of 7.4kW.
The new BG Sync EV has increased slightly in size from the old compact charge point, but this works well for the new tethered lead model as the cable can now wrap around the unit, unlike the old model where the cable was stowed upon the holster. 
The socket version has an auto-lock feature which prevents removal of the connector while charging.
The unit is only available in dark grey (with black trim) but looks good on most brick walls and is fairly unobtrusive due to its small size. 
A small LED on the front panel indicates the current charge status with blue showing ready to charge, and green showing charging in progress. The LED is not too bright unlike many other charge points, which is good as there is no option to dim it, unlike the older model.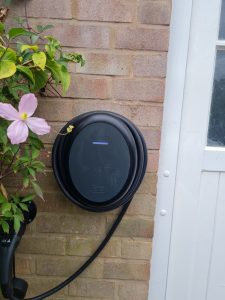 A cable holster comes packaged with the unit to allow the connector to be stored when not in use For those not wishing to use it the connector has a rubber cap to prevent water ingress when not in use which is a great idea and not seen on many charge points.
The unit also has an improved impact rating and is IP55 rated for outdoor use.
PEN fault detection 
PEN fault detection is now pretty standard amongst UK charge points and again found in the new BG Sync EV.
For those not aware many of the older charge points required a separate means of earthing, this entailed the installation of an earth rod into the ground adjacent to the charge point. This was in case of a neutral fault on the supply network.
A break in the neutral could have meant under fault conditions the car chassis could become live and cause a potentially fatal shock. A dedicated earth rod would of diverted the energy to ground instead of potentially passing through a person.
New charge points with PEN fault protection do not require an earth rod and instead will stop the charge to the EV if a neutral fault occurs so offers a safer way of charging.
Dynamic Load Balancing
Another excellent feature from the old Sync EV is dynamic load balancing to prevent blowing the main fuse or circuit breaker. This requires a CT clamp installed around the main incoming live cable at the main fuse position to monitor the total demand/load of the installation. This clamp monitors how much electricity is being used in the home and reduces the charge rate to the EV if required.  For example if a home has a 60A main fuse, and for instance 40A is being used within the home the charge rate to the EV will drop from 32A (7.4kW) down to 20A to prevent the main fuse rupturing. Once the load within the home drops the charge rate to the EV will increase dynamically.  
It's highly recommended to use this feature but unfortunately the CT clamp is a separate accessory and not bundled within the unit, but at around £20 it's not too expensive.
To install the CT clamp a data cable will need to be installed alongside the main power cable or EV ultra (combined power /data) cable can be used.
RCD protection 
Again A-type 30mA RCD protection and 6mA DC protection is integrated into the unit so in most cases the BG Sync EV can be supplied from a miniature circuit breaker (MCB)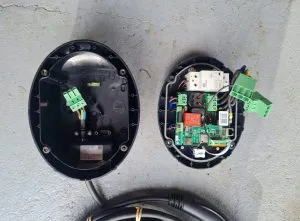 Smart charging
On 30th June 2022 the new EV smart charge point legislation came into effect. This meant all charge points have to have connectivity for smart charging via an app, enabling timed off peak charging to lessen impact on the grid during peak times.
The BG Sync EV is fully compliant with new legislation and now uses the popular ev.energy app to smart charge your vehicle. The app can set your car to automatically charge at off peak rates, it also has usage graphs for cost and carbon intensity, more info about the app can be found at the ev.energy website. 
For the app to work the Sync an internet connection of some sort is required, all bases are covered though as the Sync EV has WiFi and ethernet connectivity. If connectivity is still an issue a 4G SIM model is also available to help get you connected.
We always recommend installing as close as possible to your WiFi router or using a plug-in WiFi booster to ensure a reliable connection. 
The BG Sync EV is now compliant with the OCPP 1.6J standard and offers lifetime over-the-air software updates.
Model numbers
Tethered:
EVT77G – WiFi + Ethernet
EVT77GG – WiFi + Ethernet +4G
Socket:
EVS7G – WiFi + Ethernet 
EVS7GG – WiFi + Ethernet + 4G
EVS7GGR – WiFi + Ethernet + 4G + RFID
Compact charger
For those who still want an ultra compact charge point the legacy model is still available as a Type 2 socket model, it uses the older Sync EV app and is still fully compliant with the EV smart charging legislation (30th June '22). For more information see our review here.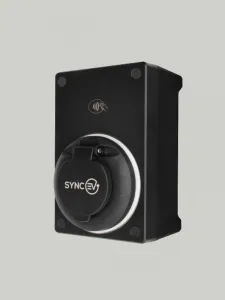 Accessories
The new BG units now have a charger stand post available for when wall mounting is not an option. The stand allows the main supply cable to be installed within the post for an aesthetically pleasing installation. 
For installations that may require an external consumer unit adjacent to the electric meter box BG have brought out a new unit specifically for EV chargers. They have an integrated surge protection device (SPD) and are available in black which can be less obtrusive to white on many propertys.
A range of charging cables are also available for those wanting a spare one. They are available in 5 and 8m lengths and have robust end caps to prevent damage and water ingress. 
BG Sync EV Verdict 
For owners
The BG Sync EV is a great charge point with all the features to satisfy most people
For those wanting app control the ev.energy app offers a user friendly way of smart charging, but there is a large number of people who just want to a basic  plug and charge unit and the BG Sync EV is a great choice for that reason, far too many charge points are over reliant on the app and have issues when wifi connectivity drops out.
It is a discreet and feature packed unit that will look good on most walls. With all the added PEN fault and load management technology inside it offers good value for a tethered charge point (Under £600) and doesn't require any additional equipment to be installed (earth rod or PEN fault unit).
We highly recommend this charge point for those wanting a no frills approach to home charging.
For installers
You'll be glad to hear the new unit is still easy to install.
The BG Sync EV has rear (needs to be drilled) and 25mm bottom entry point. For those using the rear entry a blanking grommet is included to blank off the bottom entry. A 25mm compression gland is included in the kit for bottom entry.
If rear entry is used it is recommended to enlarge the hole when drilling through the wall so the gland can enter the wall slightly as the rear of the unit is completely flat, alternatively use a Wiska Clixx IP rated grommet like was included with the older compact Sync EV.
A paper mounting plate is included within the box to mark fixing holes and rear cable entry point. 
The incoming supply cable is simply terminated into a 3 pole connector plug this is then connected to the front part of the unit. There is now push fit terminals for the CT clamp connection which is better than the RJ11 plug method used previously.  The new CT clamp is only 2 wire so EV Ultra + data can be used instead of the Cat 5 type (make sure to get the new CT clamp model EVA 120CT1).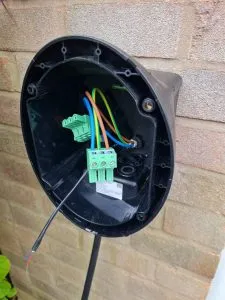 Once testing etc is complete the front of the unit can be connected to the back plate and screwed secure.
For commissioning/WiFi setup this has been improved as a new BG Sync EV installer app is available, this connects via Bluetooth to the unit and WiFi settings/CT clamp limits can be set.
There is the option of installing in plug and charge mode, this is good for initial testing as a Zs reading can be taken straight away without the need to wait for DSR delays. Its also great for the times when you have customers who don't want app connectivity and simply just want to plug and charge as required without any fuss.
CT clamp and charge rates can be adjusted in 1A increments which is great in scenarios such as detached garage sub mains etc.
Once the setup is complete if your customer requires app connectivity then you will register your customers email address and details on the ev.energy setup page, then the customer can download the app and setup an account (they will need the unit pin number for this).
After a few installs the process becomes a lot easier and I think other manufacturers (Myenergi/Hypervolt) need to take note of the setup process, setting up using WiFi/web portals is extremely tedious especially when it's done on a daily basis.