So you've got your new EV on order and now you need to enter the minefield of home EV charging. With a range of chargers, installation applications to your local network operator and grant applications things aren't that straightforward. We will take you through the process of what's involved.
Finding an installer.
If you have a regular electrician there is a chance they may be able to complete the installation for you, but you want to make sure they are qualified to install EV charge points. EV charge point installations have their own section of the BS7671 Electrical wiring regulations, and their own qualification (City and Guilds 2919), so careful consideration needs to be taken. 
We recommend using an OZEV approved installer as this proves that the installer has completed the training required. OZEV approved installers can also help claim a grant of up to £350 towards the cost of installation.
Your local OZEV approved installer can be found here.
OZEV EV Chargepoint Grant
The OZEV grant is available to people who own their own flat, or live in a rented property.
To obtain the grant certain criteria needs to be met. The property will need off-street parking (driveway) or designated parking space.
Your installer will send you a link to the application form on the OZEV website to confirm eligibilty.
Site Survey 
Once you've found an installer they should complete a survey of your proposed installatin. This gives the installer chance to check your existing electrical installation including your consumer unit, protective bonding (earthing to water/gas/oil supplies) and your main fuse.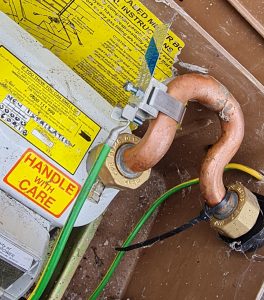 Earthing to gas and water supplies may need to be checked on the survey.
Your installer will also need to calculate the maximum electricty demand of your property. This is done as the local distrribution network operator (DNO) needs to be nootified of the additional demand of the property.
We recommend surveys to be carried out by an actual physical visit from your installer. The installer can assess the property for any potential issues on installation day, and also offer a more comprehensive quote without hidden charges on installation day.
Some installers will use remote survey software and may ask for photos of your consumer unit, electric meter etc. These types of survey demand a lot of information from the customer and can take a long time. We don't recommend these surveys as they don't always show the full extent of the installation.
EV Charge Point Installation
Your new EV charger will need a dedicated circuit as it draws a large amount of current. This should ideally be taken from your existing consumer unit, or a dedicated unit for the charge point.
If connecting to an existing consumer unit in some circumstances, alterations may be required , like replacing an old RCD to a newer A-Type RCD – required for EV charging..
If your existing consumer unit is not adequate for the new circuit a 2nd smaller consumer unit may need to be installed.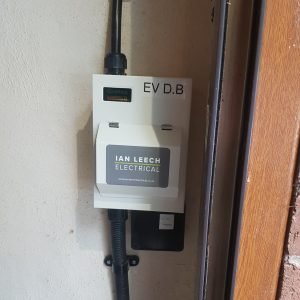 Small dedicated EV consumer unit
If there isn't room within the property, a weatherproof consumer unit can be installed adjacent to an external electric meter box

With the survey complete your installer will now be able to give you an estimate of cost and also advice on which charge point would be suitable
Do you need DNO approval? 
Approval from your local distribution network operator is required if the maximum demand for your installation is calculated to be over 60A. If you're having a 7kW (32A) charge point installed it's likely that your maximum demand is going to exceed 60A at times (especially if you have an electric shower, oven or hob), so approval is required from your Distribution Network Operator (DNO) before installation. 
If your maximum demand is calculated to be less than 60A then the application can be sent after the installation as an 'install and notify'. 
It is very important that this application is sent (and is an OZEV requirement) as EV charge points are a big demand on the local infrastructure due to charge points running for long periods of time. As EV chargers become more popular it's going to be even more important. 
Issues particularly arise in urban areas where a 'looped supply' is present. In this situation a supply cable from the road will supply a property and then loop to a neighbouring property, effectively sharing the supply cable. If this situation exists then the service will need to be 'unlooped' and a new supply cable is installed.
This can cause a considerable delay and disruption, and in some cases, it's not the property where the charger is to be installed that has the all work done, its common for neighbouring properties to have their garden or driveway dug up for a new supply to be run in.
Any works that do need to be carried out are free of charge. It is the obligation of the DNO to ensure the supply is adequate for an EV charge point.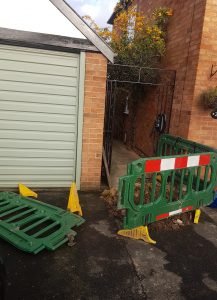 DNO works due to looped supply
For this reason, we always advise you to contact your installer ASAP, even if the EV delivery is months away, so the application can be submitted and any potential disruption investigated.
Some new EV chargers will have load limiting devices that protect the main fuse, but this doesn't mean an application should not be submitted first.
Your installer will complete the application on your behalf and send it to the DNO. The DNO will then have 10 working days to respond (some are quicker than others).
Your 13 digit MPAN number (meter point number)  is required for the application and can be found on a recent electricity bill, it's handy to have this ready to avoid delays.
Sadly many installers are avoiding the application process and using the 'connect and notify' process as a way of keeping installation times to a minimum. Although the charger will work there is a risk that your main fuse or possibly incoming supply cable rupture.
Once approval has been provided by the DNO then a date can be booked for installation.
The charger
First of all the term 'charger' is misleading, the charging is actually carried out and controlled by the vehicle. So really the unit, in effect is just a connection point like a socket.
Most domestic chargers will charge at a rate of around 7.2kW, but the charge rate may be lowered by the vehicle. Hybrid vehicles generally charge at a lower rate of 3.6kW as they only have a lot smaller battery capacity. Battery management systems within the vehicle will also reduce charge rates when required, generally when at 80% capacity, this is to protect the battery and its longevity.
Early charge points came in 3.6kW and 7kW variants but most manufacturers now only make 7kW models as it's a more future proof solution.
22kW Charge points are also available by some manufactures, but unfortunately they require a 3-phase supply which isn't common for domestic properties within the UK.
For a look at some of the best chargers on the market see our reviews here
Pre-Installation 
Before installation, your installer will likely ask for you to complete the OLEV/OZEV Homecharge Scheme Grant application form and also provide any evidence of vehicle ownership that is required as evidence.
If your charge point connects directly to WiFi we would recommend checking the WiFi signal at the point of installation if it hasn't be checked already. More installation issues arise at the WiFi connectivity stage as sometimes issues are found until the unit is powered up. We recommend using powerline adapters such as the TP-Link AV600 to help boost the WiFi signal near the charge point.
Installation 
On the day of installation, we recommend that all work areas are free from clutter, especially around areas where stepladders may be used.
Be aware that there may be long periods of time where the electricity needs to be switched off, please keep this in mind especially when working from home.
Once installation is complete your installer will test the charge point with a dedicated test unit.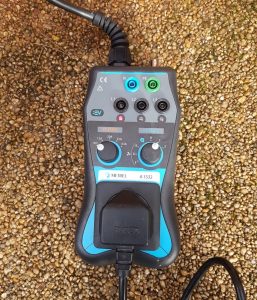 EV test equipment simulates vehicle being plugged in, to check operation.
It's also worth asking your installer to demonstrate charging your EV (if present) especially if you've never used a charger before.
Your installer will ask you to complete one last piece of paperwork and will take photos of the installation in line with OZEV requirements.
Post-installation
Your installer should invoice for the full amount but £350 will be offset via the OZEV grant. This £350 will be claimed by the installer and paid directly to them from OZEV.
The full amount is invoiced as the customer is liable for the full amount if any false or incorrect applications are made.
The customer should also receive an electrical installation certificate and a building regulations certificate once all works are complete. 
All OZEV installations come with a 3-year parts and labour warranty.
Energy Tariffs
Once everything is up and running then it's worth taking a look at your electricity provider. Your provider may be able to offer a cheap tariff for overnight charging. Octopus Go offers charging at 9p per kWh for four hours overnight. This is a great saving compared to the average daytime rate of around 29p per kWh.
UPDATE: Due to the current energy crisis it may not be worthwhile to change tariff at this moment as your daytime rate may go up. Therefore if you use a lot of electricity during the day it may not give you a saving and possibly work out more expensive, please only proceed if you have done a calculation first.