The Easee One is a new EV charging solution designed and manufactured in Norway. It's designed to withstand harsh weather yet remain stylish and also small in comparison to most other charge points.
With Norway leading the way in the uptake of electric vehicles Easee has used their experience when producing a charge point for the UK market. Their aim is to simplify ease of use for the customer, and also the installation for the electrician. 
Overview
The Easee One is a 7.4kW untethered charge point that has a type 2 socket ensuring compatibility with all EVs. Housed in a tough plastic shell the Easee One is lightweight weighing in at 1.5kg, and has dimensions of 256mm in height and a width of 193mm. This is one of the better looking and less obtrusive charge points available
As you would expect the unit can be installed outdoors with it being designed to withstand the harsh Scandinavian winters. TheEasee One has an IP rating of IP54.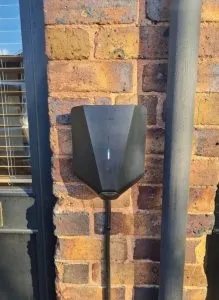 Easee One Features
PEN Fault protection 
As with most modern UK EV charge points the Easee One has PEN fault protection which omits the need for an earth rod simplifying the installation but still complying with BS7671 wiring regulations in England and Wales.
RCD Protection
Easee One has A-Type RCD protection and 6mA DC protection, which again simplifies installation as a separate RCD may not be required (installation method dependent).
Load balancing
The Easee One does offer load balancing although not in the same way as other charge points like the Zappi and Hypervolt. 
The Easee One allows the installation of up to 3 charge points on a single circuit (cable) unlike other charge points requiring an individual circuit. This is extremely useful for anyone that has more than one EV or is planning on a 2nd EV in the future. A 2nd Easee can be looped from the 1st unit either at the time of installation or at a later date. 
As the supply cable is shared between the two units, this means that when two EVs are charged simultaneously, the charge rate will be split between the two EVs and will not charge both at 7.4kW. Instead, both vehicles will charge at around 3.8kW. 
Once one of the cars reaches full charge or is unplugged then a full 7.4 kW charge will go into the remaining vehicle on charge. This happens dynamically without the user's input.
For anyone looking to charge two vehicles simultaneously at a full 7.4kW capacity then the Myenergi Zappi may be better suited as it does offer the above feature with the added benefit of a CT clamp to prevent overload of the main supply fuse.
Installation 
The Easee One is extremely easy to install.
The unit comes in three parts, the backplate, the charging 'robot', and the front cover.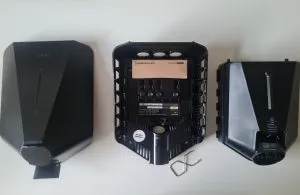 The backplate simply fits to the wall and has 4 cable entries, 3 from the top, and 1 from the bottom. Supply cables terminate in the backplate and use the glands supplied.
The charging 'robot', which contains all the electronics within a sealed unit, simply clips into the backplate and then the front cover is fitted over the top.
To prevent unauthorised access the front cover requires a special tool to remove it and the 'robot' can also be padlocked in place to prevent removal.
Connectivity
One of the biggest issues facing installers is getting charge points online but the Easee one simplifies this with an in-built 4G e-SIM. This SIM is multi-network so a signal can be obtained in most locations, failing that it does also have WiFi connectivity as a fallback. I
Mobile App
The Easee One is compliant with the EV smart charging regulations 2022 and therefore has an app capable of smart charging. Scheduled charging can be set for those wanting to charge on an overnight off-peak tariff and also charging analytics can be found showing charge history data.
The app also lets you lock the charging cable in place to prevent unauthorised removal of the cable. 
Access to charging can also be restricted by only allowing users with a key fob to charge. (key fobs not included with unit)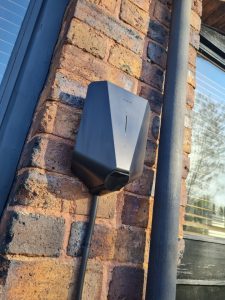 Pricing
The Easee One is priced at £549 RRP. 
Accessories 
As mentioned RFIF key fobs are available to restrict use of the charge point to authorised users only. These come in packs of 10 at around £30.
Mounting pedestals are available for those who need a post mounting solution remote from their home. Single, dual and quad mounting posts are available so more than one charge point can be installed on a single post. Cables are concealed within the post and a junction box built within the post offers a very convenient way for the units to be connected to a single supply cable. The dual mounting post is priced around £325.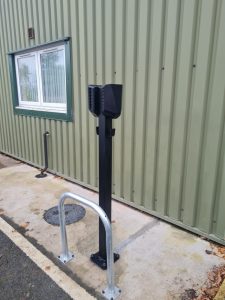 For those who are installing units on an uneven surface or their own post, a metal mounting plate is available to help with installation. This plate also has a U-hook to allow a charging cable to be hung from. These are priced around £90.
Front covers can be replaced and are available in a variety of colours to match your decor. Black, red, grey, dark blue and white covers are currently available at around £30 each.
Verdict
User view
The Easee is one of the easiest charge points to use, hence the name, and with the addition of 4G it doesn't suffer the app connectivity issues that you can sometimes get with other charge points. 
Looks wise it's unobtrusive with a matt finish and only small white LEDs to indicate charging. It's also very compact so can fit in smaller spaces unlike the larger tethered charge points.
With the unit only offering an untethered unit though this means that you will always have to use your own charging cable, this can be far less convenient than tethered charge points, especially on a rainy day when you dont want to be messing around getting your cable out of the boot.
The load balancing feature is great for anyone wanting to charge two EVs at once but high daily mileage users who need full 7.4kW charging may want to look elsewhere, especially if you are trying to charge in a 4 hour off-peak window like Octopus Go foe instance. 
As there is no grid limiting feature then anyone who has electric hobs, showers etc may need to take care when charging at peak usage times to prevent issues with thee main fuse rupturing. If you mainly charge overnight this shouldn't be an issue though.
Currently there is no option for solar charging, but is in the pipeline as a future feature but will require extra equipment. Any daytime charging you do while your solar panels are generating will obviously go into the EV and not the grid though. 
Installer View
As an installer I find the Easee One one of the most pleasurable and hassle-free units to install.
The built-in 4G takes away all the messing around of Wifi connectivity, the issue that plagues other units, and can be set up in a matter of minutes.
The installer app also makes things even simpler by allowing the installer to input settings into the app there these are copied did over into the unit when energised. Customer details are then put into the app and the installation is then passed over to the customer who receives a text message on how to proceed. There are no accounts to set up, and no messing around with setting up apps on customers' phones. 
What's also great is that all Easee installations you have completed are then held within the Easee installer app and the online portal.  This allows settings to be changed remotely and also allows installers to monitor charging for any users who may have issues, thus preventing any unnecessary revisits to site. 
Unfortunately, the omission of grid limiting is a huge disappointment as most charge points have this and with the increased demand on infrastructure, it's needed. With EV ultra cable readily available installation of CT clamps are usually straightforward so not sure why this hasn't been added yet. I believe there is a wireless 'equaliser' to handle load management but think this is aimed at 3-phase commercial units as the £300 price tag doesn't make it a viable option for domestic use. I'm not sure the wireless model will be G100 compliant either.
For anyone looking to have an Easee One installed in Shropshire and Wrexham the please get in touch here.
For anyone else contact Easee to find your local approved installer here.