EV chargepoint grant for flat owner-occupiers and people living in rented properties
As of 1st April 2022 the OZEV Homecharge scheme grant (EVHS) has now been replaced by the EV Chargepoint grant for flat owners and people living in rented properties.
The new scheme is open to:
homeowners who live in flats
people in rental accommodation (including flats and single-use properties)
The general rules of the EVHS scheme remain but the new changes are:
the customer must live in rental accommodation or own a flat
the installer must confirm ownership of the property. If rented, confirm the name and address of person or entity letting the property as it appears on the rental agreement
customers will no longer be able to claim for 2 chargepoints if they own a second electric vehicle
Installers will still make the claim on behalf the customer.
The grant remains capped at £350 or up to 75% of the total cost of installation (whichever is greater)
The list of eligible vehicles remains the same and can be found below.
For more detailed guidance then please visit the OZEV website here
Which vehicles eligible for the OLEV EV Chargepoint Grant?
| Manufacturer | Model | Vehicle Type |
| --- | --- | --- |
| Audi | A3 e-tron | Car |
| Audi | A3 Sportback 40 TFSI e | Car |
| Audi | A6 50 TFSI e (Saloon and Avant) | Car |
| Audi | A6 55 TFSI e (Saloon and Avant) | Car |
| Audi | A7 50 TFSI e (Saloon and Avant) | Car |
| Audi | A7 55 TFSI e (Saloon and Avant) | Car |
| Audi | A8 TFSI e | Car |
| Audi | e-tron | Car |
| Audi | e-tron GT | Car |
| Audi | e-tron Sportback | Car |
| Audi | e-tron S | Car |
| Audi | e-tron S Sportback | Car |
| Audi | Q3 TFSI e | Car |
| Audi | Q3 Sportback TFSI e | Car |
| Audi | Q4 e-tron | Car |
| Audi | Q4 e-tron Sportback | Car |
| Audi | Q5 TFSI e | Car |
| Audi | Q7 e-tron | Car |
| Audi | Q7 TFSI e | Car |
| Audi | Q8 TFSI e | Car |
| Audi | RS e-tron GT | Car |
| BD | Otomotiv eTraffic | Van |
| BD | Otomotiv eDucato | Van |
| BMW | i3s | Car |
| BMW | i3 | Car |
| BMW | i4 | Car |
| BMW | i8 | Car |
| BMW | iX | Car |
| BMW | iX M60 | Car |
| BMW | iX3 | Car |
| BMW | 225xe | Car |
| BMW | 330e Saloon | Car |
| BMW | 330e xDrive Saloon | Car |
| BMW | 330e Touring | Car |
| BMW | 330e xDrive Touring | Car |
| BMW | 530e | Car |
| BMW | 530e xDrive | Car |
| BMW | 545e xDrive | Car |
| BMW | 745e | Car |
| BMW | 745Le | Car |
| BMW | X1 xDrive25e | Car |
| BMW | X2 xDrive25e | Car |
| BMW | X3 xDrive30e | Car |
| BMW | X5 xDrive45e | Car |
| BYD | e6 | Car |
| Chevrolet | Volt | Car |
| Citroen | C5 Aircross PHEV | Car |
| Citroen | Czero | Car |
| Citroen | e-Berlingo | Car |
| Citroen | e-Berlingo | Van |
| Citroen | e-C4 | Car |
| Citroen | e-Dispatch | Van |
| Citroen | e-Spacetourer | Car |
| Cupra | Born (58kWh 204PS) | Car |
| Cupra | Formentor PHEV | Car |
| Cupra | Leon PHEV | Car |
| Cupra | Leon Estate PHEV | Car |
| DS | 3 Crossback E-Tense | Car |
| DS | 7 Crossback | Car |
| DS | DS4 PHEV | Car |
| DS | DS9 PHEV | Car |
| Energica | EGO | Motorcycle |
| Energica | EVA | Motorcycle |
| Energica | EsseEsse9 | Motorcycle |
| Fiat | 500e | Car |
| Fiat | e-Ducato | Van |
| Ford | Focus Electric | Car |
| Ford | Kuga PHEV | Car |
| Ford | Mustang Mach-E | Car |
| Ford | Tourneo PHEV | Van |
| Ford | Transit Custom PHEV | Van |
| Ford | Transit Custom Kombi PHEV | Van |
| FUSO | eCanter | Van |
| Honda | e | Car |
| Hyundai | IONIQ PHEV | Car |
| Hyundai | IONIQ Electric | Car |
| Hyundai | IONIQ 5 | Car |
| Hyundai | KONA Electric | Car |
| Hyundai | Santa Fe PHEV | Car |
| Hyundai | Tucson PHEV | Car |
| Jaguar | I-PACE | Car |
| Jaguar | E-PACE | Car |
| Jaguar | F-PACE | Car |
| Jeep | Compass 4xe | Car |
| Jeep | Renegade 4xe | Car |
| Kia | Ceed SW PHEV | Car |
| Kia | EV6 | Car |
| Kia | e-Niro | Car |
| Kia | Niro PHEV | Car |
| Kia | Optima PHEV | Car |
| Kia | Sorento PHEV | Car |
| Kia | Soul EV | Car |
| Kia | Sportage PHEV | Car |
| Kia | Xceed PHEV | Car |
| Land Rover | Discovery Sport P300e | Car |
| Land Rover | Defender P400e | Car |
| LDV | EV80 van | Van |
| LDV | EV80 chassis cab | Van |
| LEVC | TX | Taxi |
| LEVC | VN5 | Van |
| Lexus | UX 300e | Car |
| Lexus | NX 450+ (PHEV) | Car |
| Mahindra | e2o | Car |
| MAN | eTGE | Van |
| Maxus | eDeliver 3 | Van |
| Maxus | eDeliver 9 | Van |
| Mazda | MX-30 | Car |
| Mercedes-Benz | A250e | Car |
| Mercedes-Benz | B250e | Car |
| Mercedes-Benz | B-Class Electric Drive | Car |
| Mercedes-Benz | C300e Saloon | Car |
| Mercedes-Benz | C300e Estate | Car |
| Mercedes-Benz | C300de Saloon | Car |
| Mercedes-Benz | C300de Estate | Car |
| Mercedes-Benz | C350 e | Car |
| Mercedes-Benz | CLA 250 e Coupe | Car |
| Mercedes-Benz | CLA 250 e Estate | Car |
| Mercedes-Benz | GLA 250 e | Car |
| Mercedes-Benz | GLC 300 e Coupe | Car |
| Mercedes-Benz | GLC 300 e SUV | Car |
| Mercedes-Benz | GLC 300 de Coupe | Car |
| Mercedes-Benz | GLC 300 de SUV | Car |
| Mercedes-Benz | GLE 350 de | Car |
| Mercedes-Benz | E300e Saloon | Car |
| Mercedes-Benz | E300de Saloon | Car |
| Mercedes-Benz | E300de Estate | Car |
| Mercedes-Benz | E350 e SE | Car |
| Mercedes-Benz | E350 e AMG Line | Car |
| Mercedes-Benz | EQA | Car |
| Mercedes-Benz | EQB | Car |
| Mercedes-Benz | EQC | Car |
| Mercedes-Benz | EQS | Car |
| Mercedes-Benz | AMG EQS 53 | Car |
| Mercedes-Benz | EQV | Car |
| Mercedes-Benz | S500 Hybrid | Car |
| Mercedes-Benz | S560e | Car |
| Mercedes-Benz | S580e | Car |
| Mercedes-Benz | eSprinter | Van |
| Mercedes-Benz | eVito Tourer | Car |
| Mercedes-Benz | eVito | Van |
| Mercedes-Benz | Vito E-Cell | Van |
| MG | HS Plug-in | Car |
| MG | MG5 EV | Car |
| MG | ZS EV | Car |
| MINI | Countryman PHEV | Car |
| MINI | Electric – Cooper SE | Car |
| Mitsubishi | iMiEV | Car |
| Mitsubishi | Outlander PHEV | Car |
| Mitsubishi | Outlander Commercial | Van |
| Nissan | Dynamo | Taxi |
| Nissan | e-NV200 (5-seater and 7-seater) | Car |
| Nissan | e-NV200 (cargo van) | Van |
| Nissan | LEAF | Car |
| Nissan | Voltia | Van |
| Peugeot | e-208 | Car |
| Peugeot | e-2008 | Car |
| Peugeot | e-Expert | Van |
| Peugeot | e-Partner | Van |
| Peugeot | e-Rifter | Car |
| Peugeot | e-Traveller | Car |
| Peugeot | 508 | Car |
| Peugeot | 3008 | Car |
| Peugeot | iON | Car |
| Polestar | 2 | Car |
| Porsche | Panamera S E-Hybrid | Car |
| Porsche | Taycan | Car |
| Porsche | Taycan Cross Turismo | Car |
| Porsche | Taycan Sport Turismo | Car |
| Range Rover | Evoque P300e | Car |
| Range Rover | P400e | Car |
| Range Rover | Sport P400e | Car |
| Range Rover | Sport PHEV | Car |
| Range Rover | Velar P400e | Car |
| Renault | Captur PHEV | Car |
| Renault | Fluence | Car |
| Renault | Kangoo ZE | Van |
| Renault | Megane PHEV | Car |
| Renault | Master ZE | Van |
| Renault | ZOE | Car |
| Renault | ZOE | Van |
| SEAT | Mii electric | Car |
| SEAT | Leon PHEV | Car |
| SEAT | Leon Estate PHEV | Car |
| SEAT | Terraco PHEV | Car |
| Skoda | Citigo-e | Car |
| Skoda | ENYAQ iV | Car |
| Skoda | ENYAQ Coupe iV | Car |
| Skoda | Octavia iV | Car |
| Skoda | Superb iV | Car |
| Smart EQ | forfour | Car |
| Smart EQ | fortwo | Car |
| Smith Electric | Smith Edison | Van |
| Tesla | Model S | Car |
| Tesla | Model X | Car |
| Tesla | Model 3 | Car |
| Tesla | Model Y | Car |
| Toyota | Prius Plug-in | Car |
| Toyota | Proace Electric | Van |
| Toyota | RAV4 Plug-in | Car |
| Vauxhall | Ampera | Car |
| Vauxhall | Combo-e Life | Car |
| Vauxhall | Corsa-e | Car |
| Vauxhall | Grandland X HYBRID FWD | Car |
| Vauxhall | Grandland X HYBRID4 | Car |
| Vauxhall | Mokka-e | Car |
| Vauxhall | Vivaro-e | Van |
| Vauxhall | Vivaro-e Life | Car |
| Volkswagen | ABT e-Transporter | Van |
| Volkswagen | Arteon | Car |
| Volkswagen | e-Golf | Car |
| Volkswagen | e-up! | Car |
| Volkswagen | Golf GTE | Car |
| Volkswagen | Golf Style eHybrid | Car |
| Volkswagen | ID.3 1st Edition | Car |
| Volkswagen | ID.3 Pure Performance (45kWh 150PS) | Car |
| Volkswagen | ID.3 Pro (58kWh 145PS) | Car |
| Volkswagen | ID.3 Pro Performance (58kWh 204PS) | Car |
| Volkswagen | ID.3 Pro S (77kWh 204PS) | Car |
| Volkswagen | ID.4 1st edition | Car |
| Volkswagen | ID.4 Pure (52kWh 148PS) | Car |
| Volkswagen | ID.4 Pure Performance (52kWh 170PS) | Car |
| Volkswagen | ID.4 Pro Performance (77kWh 204PS) | Car |
| Volkswagen | ID.4 GTX (77kWh 299PS) | Car |
| Volkswagen | Passat GTE | Car |
| Volkswagen | Touareg eHybrid | Car |
| Volkswagen | Tiguan eHybrid | Car |
| Volvo | C40 Recharge | Car |
| Volvo | S60 T6 Twin Engine | Car |
| Volvo | S60 T6 Plug-in Hybrid | Car |
| Volvo | S60 T8 Twin Engine | Car |
| Volvo | S60 T8 Plug-in Hybrid | Car |
| Volvo | S90 Twin Engine | Car |
| Volvo | S90 Plug-in Hybrid | Car |
| Volvo | V60 D5 Twin Engine | Car |
| Volvo | V60 D5 Plug-in Hybrid | Car |
| Volvo | V60 D6 Twin Engine | Car |
| Volvo | V60 D6 Plug-in Hybrid | Car |
| Volvo | V60 T6 Twin Engine | Car |
| Volvo | V60 T6 Plug-in Hybrid | Car |
| Volvo | V60 T8 Twin Engine | Car |
| Volvo | V60 T8 Plug-in Hybrid | Car |
| Volvo | V90 Twin Engine | Car |
| Volvo | V90 Plug-in Hybrid | Car |
| Volvo | XC40 T4 Plug-in Hybrid | Car |
| Volvo | XC40 T5 Twin Engine | Car |
| Volvo | XC40 T5 Plug-in Hybrid | Car |
| Volvo | XC40 P8 Pure Electric | Car |
| Volvo | XC40 Recharge | Car |
| Volvo | XC40 Recharge Twin | Car |
| Volvo | XC60 Twin Engine | Car |
| Volvo | XC60 Plug-in Hybrid | Car |
| Volvo | XC90 T8 Twin Engine | Car |
| Volvo | XC90 T8 Plug-in Hybrid | Car |
See our blog posts for more about electric vehicles and EV charging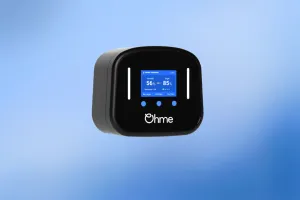 The Home Pro is a tethered EV charger from the Ireland-based company, Ohme.Designed with an emphasis on saving the customer money through off-peak charging. The
Read More »