The home 2.0 is a new EV charger from UK based company Hypervolt. Having received backing from Innovate UK, the Government-backed innovation and research agency, this new charger looks to make its mark on the home charging scene.
This EV charger aims to bring premium features at an affordable price, and at the same time offering style and ease of use. 
Hypervolt overview
The Hypervolt home 2.0 is a wall-mounted EV charger with a 5m tethered lead, available in both type 1 and 2 variants. The tethered lead is wrapped around the Hypervolt unit quite discretely with the ability to stow the connector in a wall-mounted holster (included) The Hypervolt is constructed from ABS composite and is extremely durable in all weather conditions with an IP54 rating. Charging at the standard 7kW (32A at 230v) with options to reduce this in-app, or using the new automatic load management feature.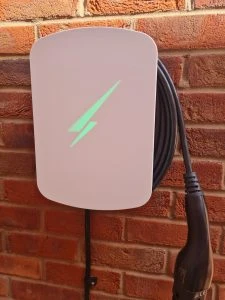 New Hypervolt in ultrawhite with text removed from under LED
Hypervolt dimensions
The Hypervolt EV charger measures 328mm x 243mm x 101mm. This is smaller than chargers such as the Andersen A1 and Myenergi Zappi. The depth is only 101mm makes the Hypervolt quite slimline in comparison with most chargers.
What's in the box?
The Hypervolt home 2.0 charger with 5m tethered lead.
CT Clamp
Cable holster
Installation mounting plate (now cardboard)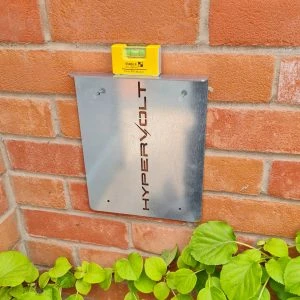 Metal installer mounting plate for approved installers  easy marking of fixings during installation
Hypervolt features
PEN fault detection
Not the first feature most people look for but it is an important one as it is there for safety.
Early EV chargers and chargers in the cheaper price bracket require an earth rod to be installed. This offers added protection in the event of a fault on the property's supply cable.  If there is a fault on the supply cable coming into the property in some circumstances the metalwork of the car may become live, this can be potentially fatal if anyone was to touch this.
The downside to the earth rods is they can be time-consuming to install and also look really unsightly on the front of a property. This is where PEN fault detection comes into play as it constantly monitors the incoming supply. In the event of a supply fault, the Hypervolt will stop charging preventing potential harm. This feature comes as standard on the Hypervolt meaning a simple installation every time.
Automatic load management 
Again another important safety feature as it prevents overload of your electrical supply. The Hypervolt is set to a limit that matches the size of the main incoming supply fuse, it then constantly monitors electricity usage in the home and alters the charge rate to the EV to suit.
For instance, if the limit is set to 60A and 40A is used in the home elsewhere then charging to the EV will drop to 20A. This keeps the maximum demand to 60A and prevents the main fuse from blowing and limits the chance of a total loss of power. What's great is that there is a visible representation of this happening on the front of the Hypervolt unit as the LED logo fades out to represent lower power which is a neat little touch.
Monitoring of the main fuse is done via a CT clamp which is clipped to the supply cables at the electric meter. The CT clamp is hard-wired to the Hypervolt via a separate cable or a combined power and data cable like Doncaster Cables EV Ultra can be used. This makes installation more aesthetically pleasing as only a single cable is used.
There are plans for a wireless CT clamp version which will hopefully be available later this year.
The only issue I had with the load management is that the fuse setting was done via a dial within the unit and there was no option for 20 or 25A limits. These aren't common MCB sizes but it would have just offered even more flexibility for the installer.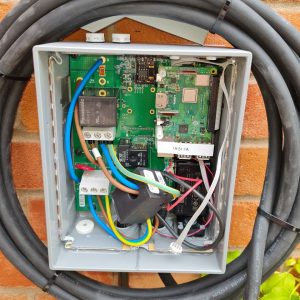 Internal view of Hypervolt with Rasberry Pi computer inside
RCD protection 
The Hypervolt has 6mA DC protection built-in therefore an expensive external B-type RCD is not required making installation straightforward. An A-type RCD or RCBO is required at the consumer unit, these are readily available and not expensive compared to the B-type version.
I do prefer the unit not having an internal A-Type RCD as this makes installation more flexible and prevents having 2 30mA  RCDs in-line, but I know that future models will be incorporating an A-Type RCD.
Microgeneration compatibility 
The Hypervolt now has solar compatibility. The latest software update offers 2 modes of charging, similar to the Zappi, to help optimise the use of home-generated electricity.
Setting the 'boost' mode the Hypervolt will charge at a full rate of 7kW. This will use any solar-generated energy, and then top up the remainder from the grid to ensure a full 7kW charge. If no solar energy is generated the Hypervolt will charge at 7kW from grid electricity.
In 'eco' mode the Hypervolt will use the minimum amount of grid-supplied electricity as possible to ensure the Hypervolt charges the EV at the 1.4kW required. If the solar array generates more than 1.4kW then no grid energy will be used.
Hypervolt is currently working on the 3rd mode which is 'super eco'. In this mode, the Hypervolt will only charge via solar energy. For this to work 1.4kW of surplus energy is required to begin charging, if this is not reached the Hypervolt will not charge the EV.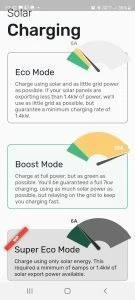 These modes are easily changed between using the Hypervolt app.
Monitoring of the solar is done via the bi-directional CT clamp installed at the meter
Hypervolt App Setup
Like most other EV chargers the Hypervolt is a smart charger (and therefore compatible with the OZEV/OLEV grant) and has an app to giving you full control of charging modes and the ability to view energy consumption. This is available from Apple and Google app stores by searching 'Hypervolt'
Setting up the app is really straightforward as your smartphone connects via Bluetooth to the Hypervolt. Once connected and you have set up an account it's just a case of selecting your WiFi SSID from a list, entering the password and adopting your charger. It literally takes one minute!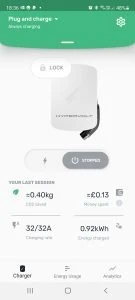 App Features
The Hypervolt app has a really simple interface, especially when setting charging schedules. Multiple sessions can be timed to coincide with your cheap rate electricity tariff such as Octopus's Go EV charging tariff. Alternatively, a 'plug and charge' mode can be set.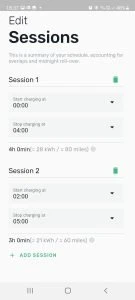 Analytics of energy consumption in kWh's or British pounds can be displayed. Tariff rates are adjustable so they can be set to match your energy provider rate.
These analytics are downloadable from the dashboard when using a desktop/laptop to sign in to your account., This is really useful for users who need to claim back expenses through their business.
The Hypervolt can also be set to lock mode to prevent unauthorised use. Hypervolt LED will be orange to indicate that lock mode is enabled.
Unlike some chargers, the Hypervolt will do automatic software updates. Therefore the latest features are always available eliminating the need for manual firmware updates.
Alexa integration
Hypervolt is one of the only chargers that has full Alexa integration. Voice commands can be used to switch on charging, dim the LED panel and set charging schedules. Ask Alexa to "ask Hypervolt to get the party started" and you will be treated to a multicolour light show.
Hypervolt Pricing
The Hypervolt home 2.0 is priced at £679 rrp (including VAT) for the 5 metre model. 
Installation costs will vary. Costs depend on various factors, the distance from your consumer unit and the compatibility of your existing electrical installation being the main issues.
By using an approved OZEV/OLEV installer you will receive £350 towards the cost of your Hypervolt charger installation (see below).
Styling options and extras
The Hypervolt is now available in ultrawhite and also ultrablack. Pre-orders are now also being taken for the 'space grey' model available in mid-December.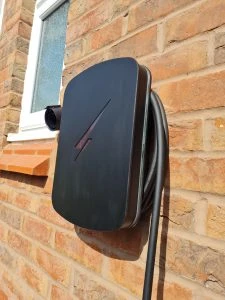 New Ultrablack Hypervolt now available
The unit itself has a nice clean modern look to it, especially as it's a bit slimmer than some of its rivals.
There is an LED panel on the front of the unit which shines different colours for different modes, when waiting in standby it shines blue and then changes to green when an EV is plugged in. If a timed charge has been set the Hypervolt will shine purple to indicate it's waiting for the charging programme to begin.
 If the LED light is too bright it can be dimmed or switched off via the app.
There is a 5 metre tethered lead as standard which can be upgraded to 7.5 or 10 metres if required (£60/£120 additional cost).
The standard 3-year Warranty can also be upgraded to 5 years for extra peace of mind (£100 additional cost)
Hypervolt also has a mounting post available if you require installation remote from your property. This is in conjunction with EV Tower who make posts for many other EV chargers. The post is priced at £288.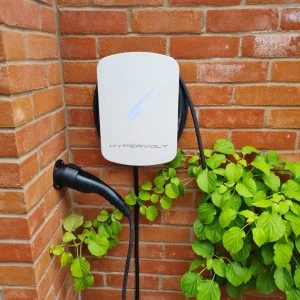 Hypervolt and cable holster installed
Verdict
The Hypervolt is a great entry to the EV charger market, it will please both installers with its ease of installation and users with its styling and simplicity.
Priced considerably less than other premium chargers the Hypervolt is a great alternative to the  Myenergi Zappi and Andersen A2. With the ease of use and many features, the Hypervolt should definitely be at the top of your list of potential chargers to have.
As an installer, the only minor issue I have is the fuse protection didn't offer 20 or 25A MCB settings but this would in no way stop me from recommending this charger as I think it's fantastic. 
Not only is the charger great but Hypervolt as a company is a pleasure to deal with. They always respond to my many questions, (not just between the hours of 8 am and 5 pm either may I add, evenings and weekends also) and when I did have an issue with one of my Hypervolt units I had a call back straight away from one of the CEO's of the company who dealt with the issue right away and couldn't apologise enough. There are not many companies who offer this level of service within the electrical industry that's for sure.
Rating
9/10
If you are based within Shropshire or Wrexham areas and you wish to have a Hypervolt installed then please get in touch here.
Alternatively, then contact Hypervolt who find an approved installer in your area who can help with your installation. The installer will also help with the OZEV Homecharge Scheme grant of up to £350 towards installation.
PLEASE NOTE: Ian Leech Electrical Contractor Limited has not been paid by Hypervolt in any way for this review. We are totally independent and the review is our honest opinion. 
We do install Hypervolt products but this is because we believe in their product and them as a company.