So once you've chose your electric vehicle the next decision is which EV charge point to have. There is more choice now than ever, we take a look at 3 which we believe are best right now.

All of these charge points have been designed and built in Great Britain and therefore comply with the latest BS7671 electrical regulations.

Best EV Charger for Solar PV intergration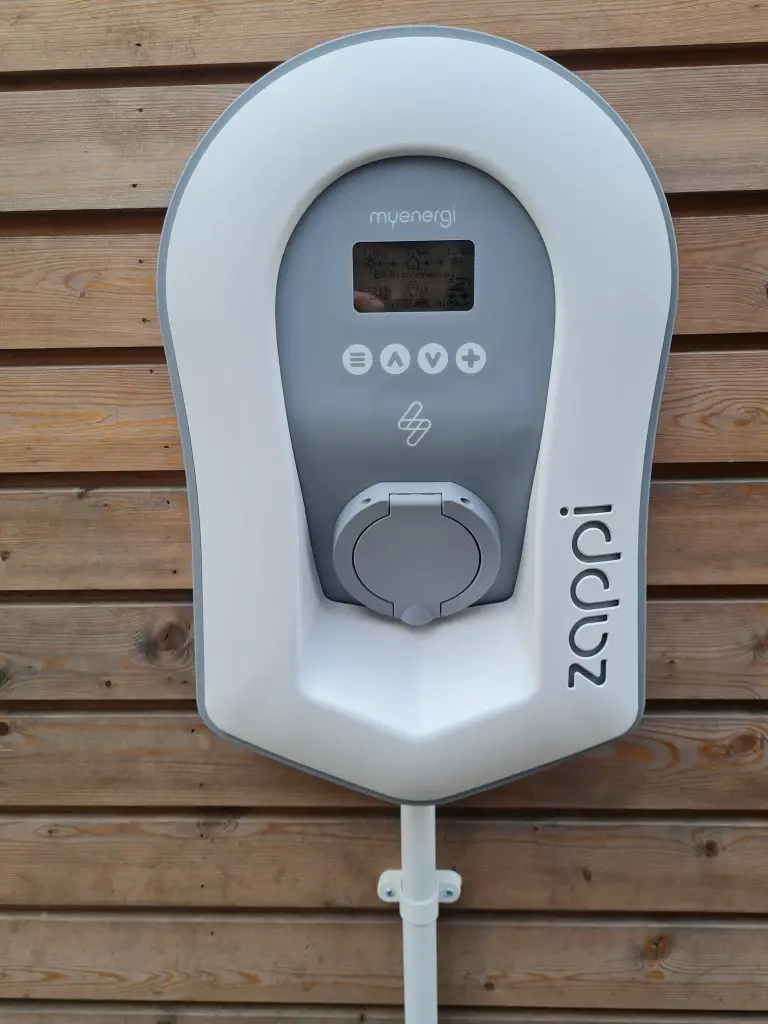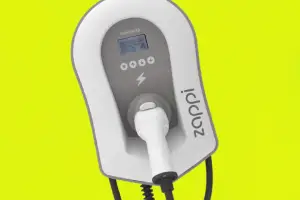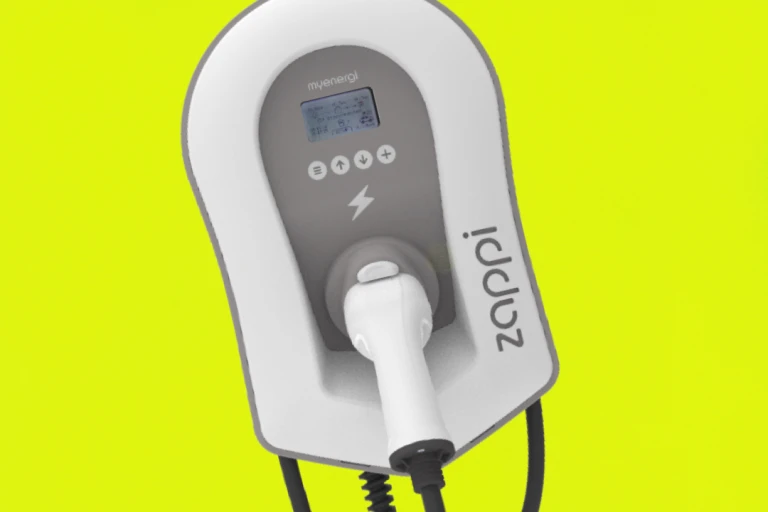 Although the Myenergi Zappi v2 is now over 2 years old it is still one of the best EV chargers available.
The Myenergi Zappi 2 is packed with exciting features and safety elements. Available in 6.5m tethered lead, or socket connector variants, as well as 7kW and 22kW model options.
The tethered lead can be wrapped around the unit with the plug installed neatly in the holster on the front.
The Zappi is the first EV charger with micro-generation integration and can be linked to both solar panels and wind turbines.
When set in Eco+ mode the Zappi will only charge when enough surplus energy is generated. This gives a 100% 'green' and 'free' charge.  For times when there isn't enough surplus energy, the Zappi will use a combination of grid and surplus solar/wind energy.
The Zappi has load-balancing as standard to prevent overload of your electric supply. This is done by installing a CT clamp at the electric meter, this can be done wired or done wirelessly using the Myenergi Harvi.
PEN fault detection is built-in so there is no need to have that unsightly earth rod installed, this makes installation much simpler and quicker!
The Zappi can be fully controlled from a mobile device via the Myenergi app. This requires a Hub to work, which connects to your WiFi router via ethernet, and acts as a gateway between your phone and Zappi. Unfortunately, this is an extra cost but is required for OLEV grant-funded installations.
The Myenergi  Zappi is OLEV approved for the Electric Vehicle Homecharge Scheme Grant.
Verdict
The Myenergi Zappi is still one of the best home EV chargers available. Unfortunately for them, many other manufacturers have now caught up with Myenergis groundbreaking technology, and better value for money chargers can be found elsewhere – especially if solar charging isn't required.
That being said Myenergi is an established company and have had time to iron out any issues with their equipment. They also still have the best charger for solar integration. Only time will tell if they can fend off the competition.
For further information see our full review of the Myenergi Zappi here
Best All-round EV charger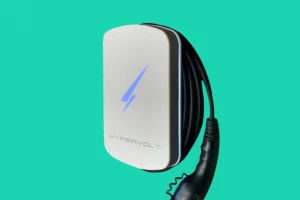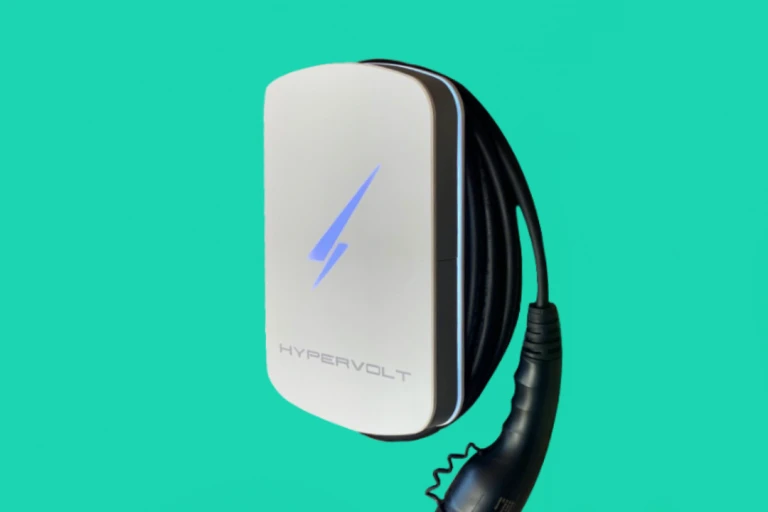 The Hypervolt one of the latest EV chargers available. It comes packed with premium features but without the high price tag.
Measuring in at 328 x 243 x 101mm, the Hypervolt is a stylish slimline charge point.
The 5m tethered lead can be wrapped around the unit discreetly, making it one of the best looking charge points available.
The Hypervolt is currently only available as a Single-phase 7kW unit. A 5m cable comes as standard but can be upgraded to 7.5m for an additional cost (£60).
There is no need for an earth rod with the Hypervolt as it has built-in PEN fault detection, this simplifies installation and reduces costs.
Load balancing also comes as standard, this gives more flexibility as it will prevent overload of your main cutout fuse. This feature also works great for an existing supply to a detached garage where the charge rate may need to be limited.
Solar charging is now possible with the Hypervolt. Three basic eco-charging modes are available, although it doesn't give as many options as the Zappi.
Both load limiting and solar charging will be monitored by the bi-directional CT clamp included with the Hypervolt.
The Hypervolt app takes care of both scheduled charging and energy usage analytics. The Hypervolt app connects to your EV charger through both Bluetooth and WiFi networks.
Hypervolt has over-the-air software updates via WiFi. This ensures all software is kept up to date, so new feaures can be added automatically, or any bugs sorted without the user needing to do anything.
Hypervolt is OLEV approved for the Electric Vehicle Homecharge Scheme Grant.
Verdict
A great looking well engineered charger which blends in with any property style. A fantastic modular system which can be designed to suit your requirements.
For further information see our full review of the Hypervolt Home 2.0  here.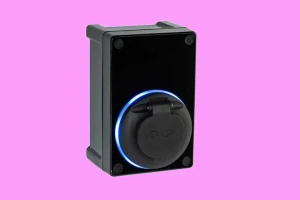 The Sync EV is one of the smallest EV chargers available. Measuring in at 175mm x 125mm x 125mm it will fit the smallest of spaces.
The Sync EV shares a similar appearance to the EO Mini Pro 2 but packs a lot more features inside.
Both PEN fault detection and automated load management are intergrated into the unit. These features are normally only seen in premium chargers.
In-built PEN fault detection avoids the use of earth rods and other extra external safety equipment. This makes for a quicker and simpler installation.
Load balancing requires a CT clamp (purchased seperately) and a cable wired back to the electric meter to monitor the main service cutout fuse.
Both A-Type and 6mA DC RCD protection is also built into the unit.
Charging is limited to a maximum of 7kW single phase with a 3 phase model due out soon.
The Sync EV has a Type 2 connector socket and is available in black or white.
There is a tethered version due imminently – further details will be released as soon as we have them.
Multiple connectivity options are available including WiFi, Ethernet and GSM, ensuring a reliable connection.
The Sync EV app gives users the option to schedule charging times and also has smart tariff intergration with Octopus Energy.
OLEV approved for the Electric Vehicle Homecharge  Scheme Grant.
Verdict
A fantastic compact charger with all the safety features needed for safe charging. For those wanting something discreet and affordable the Sync EV is highly recommended
For further information see our full review of the Sync EV here.