Are you fed up with public chargers being out of order? Or having to register to a multitude of different networks just so you can get enough charge to get home? Well one company is trying to change all of that! Gridserve has opened the UK's first all-electric forecourt in Braintree, Essex, with the aim of ridding drivers of their public charging anxieties, and making it a pleasurable experience at the same time!
The first Gridserve forecourt opened in December 2020, and is the first of a planned 100 sites opening in the next five years. Offering 36 chargers in total, with charge rates up to 350kW, enabling vehicles to receive 200 miles of charge in 20 minutes (vehicle dependant) this is the future of public EV charging.
On-site Microgeneration
What's great is the fact that Gridserve is generating electricity on-site. Solar panels are situated on canopies above the chargers, and the energy is stored in a 6MWh battery to help supply green energy in every charge. This colossal battery store offers enough clean energy to supply 24,000 miles of charge to electric vehicles when solar generation is low but demand is high. The Braintree site is also paired with a nearby solar farm at Clay Hill, also owned by Gridserve, to help supply further green energy and minimise buying in electricity from the grid. This enables Gridserve to keep charging costs low, currently at 24p per kWh, which is one of the lowest rates on the market today for ultra high power charging.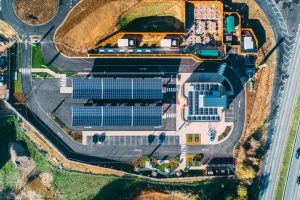 Chargers
The charging facilities offer various rates of rapid charging up to 350kW, all payable via contactless payment! Gridserve will look to bring out a monthly subscription service in the future which will offer discounted pricing. There are six Tesla superchargers also available on site.
Gridesrve Facilities
While your EV is charging, there are retail and leisure facilities to enjoy. A 'best of British' approach has been taken with British favourites occupying the retail space, including WH Smiths, The Post Office, Costa Coffee, Gourmade, and Booths.
Private soundproof function rooms, with high-speed Internet, are available, and also a gym. Exercise bikes within the gym also feed electricity into the battery store, so there's an added incentive to pedal that extra bit harder!
For those yet to purchase or lease an EV then you can visit the showroom with all the latest models on show. Gridserve has partnered with Hitachi Capital to offer a range of vehicle leasing solutions for both private, and business customers. These leases incorporate free charging at the Gridserve forecourt also, making it an attractive option for people who don't have a charger at home. For each vehicle leased Gridserve will plant 100 trees in an initiative to help offset the carbon emissions produced when manufacturing the vehicle. 
Kids and dogs are also not left out, with a learning and play area for little ones, and outdoor feeding areas for dogs.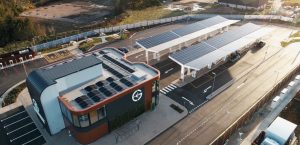 Gridserve do seem to have thought of everything needed to help encourage the uptake of electric vehicles in the UK, and also please existing drivers. Let's just hope that more sites will open soon, as the infrastructure for public charging is really lacking right now. Shell Energy also have their first all-electric forecourt planned in Fulham for an early 2021 opening.
More Information
For more information about Gridserve see there website here.
Or check out the Fully Charged show for a more in-depth look at the facilities on offer.
If you wish to have an EV charge point installed at home then see our guide to what's involved here. Here you will find information on how you may be able to receive £350 towards your installation costs.